Nutritional Products
Mona Vie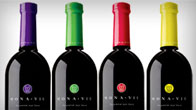 Nutrition is a very important part of any program, whether it is for weight loss, training for a race, or maintenance. A sensible diet should always be the goal of a healthy lifestyle. I now offer two outstanding options in nutrition. Mona Vie health beverage and Prograde Nutrition. Mona Vie is an incredible blend of 19 health-promoting fruits high in antioxidants, the 'Crown Jewel' being the Acai Berry. You drink Mona Vie in convenient 1-2 ounce servings, and 4 ounces can provide 100% of your daily recommended fruit servings. Click on the Mona Vie bottles for more information and to place your order.
Click to Order Mova Vie
Pro/Grade

For an exercise program, I recommend Prograde Nutrition to help supplement your diet to help fill your "nutritional gaps". From multi-vitamins to energy bars, Prograde products have been designed by fitness professionals for fitness professionals to help you get in the best shape of your life.
Place An Order For Prograde